Huobi Exchange Review – Fake Volume much?
When one trades on an exchange, he/she puts faith in it. Huobi claims to be one of the very few trustworthy exchanges out there. It has stood the test of time and has been functioning non-stop since 2013. Trillions of dollars worth of cryptocurrencies has been traded on Huobi so far and right now, it accounts for ~50 percent of total global trading volume.
However, is Huobi volume real?
Huobi? #scam pic.twitter.com/YAXTRdWue4

— FIxxx (@Coinmarketscam) April 26, 2020
Creating account on Huobi
To create an account, just go to their website, Huobi.com and click on Sign Up. Select your country and fill in your details correctly. Verify your email account and phone number and that is it, you are done. You can start trading bitcoin or other altcoins you own.
Trades are executed without any lag and their trading engine is smooth as butter. However, with so much fake volume, is anyone even trading on Huobi?
It is recommended that you enable 2FA for both trades and withdrawals. Huobi ID verification is available. This can be used for further strengthening your account's security.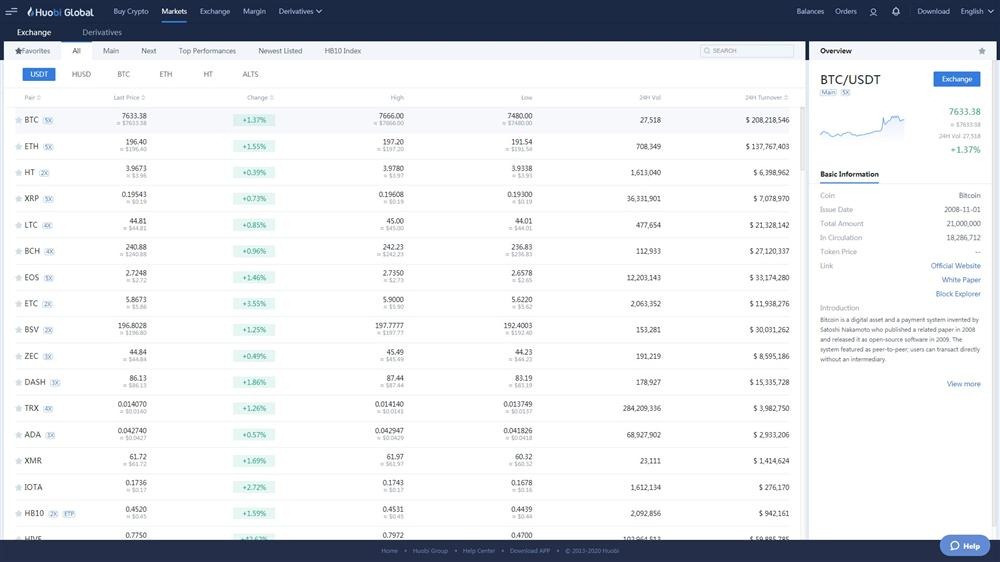 Huobi has never been hacked since its launch in 2013. 80 percent of the user's funds are kept in cold storage so even if a hacker gets access to hot wallets, funds stored on cold wallets will ensure that majority of funds are not affected.
KYC is optional on Huobi. While it is not mandatory to get your KYC done to start trading, it is recommended if you want to do larger withdrawals.
Huobi Spot Trading
The Huobi Global exchange is home to more than two hundred cryptocurrencies and stablecoins. It is currently serving users in more than 130 countries.
Huobi's maker and taker fees are currently set at 0.2 percent for all trading pairs. You can trade assets against USDT, HUSD, BTC, ETH, HT and other altcoins. As you can see in the screenshot, Huobi has one of the cleanest and nicest looking UI.
Huobi OTC (P2P)
Huobi P2P is a useful feature which allows users to trade peer to peer – just like decentralized exchanges. It also allows users to buy or sell in their local currency.
I love the fact that crypto currencies other bitcoin are also supported. This includes Alipay, bank account transfer, WeChat, PayPal, SWIFT, Western Union, Paynow, PayTM, UPI, IMPS, Net Terller and so on.
As much as I would want to recommend P2P on Huobi, barely anyone is using it. There are only two sellers. Looks like Huobi P2P is a flop.
If you are an institutional client or want to buy crypto in bulk, you can make use of Huobi OTC (Over the counter). You must buy / sell 100,000 dollars worth of cryptocurrency using this feature. All sales and purchases made using Huobi OTC feature do not affect market price on asset being exchanged.
This is important because large buys and sells can move market price by a huge margin. You can request a quote by visiting Huobi's OTC Desk. I also suggest using OTC desk when time becomes a significant factor.
Huobi Futures
You can also trade Futures on Huobi. Huobi Futures is available for Bitcoin, Ethereum, EOS, Litecoin, Bitcoin Cash, Ripple, Ethereum Classic, Tron and Bitcoin SV. Just like Huobi Spot Trading platform, the entire Margin trading UI is also super smooth. There are no hiccups, whatsoever.
This amazing experience is mirrored on their mobile applications which are available for both Android and iOS. The apps are very stable and always work as expected.
I never encountered the infamous "Overloaded" error that is prevalent in other margin trading platforms.
Customer Support
Huobi has excellent customer support. There is 24/7 live chat feature and plethora of FAQ articles on their help center. You can even open a support ticket if you require specialized assistance.
I remember one time, when I had some issue with withdrawals. And Huobi's support not only replied back to my ticket in an hour but they solved the matter as well. That is why I prefer an exchange like Huobi over some of the other crypto exchanges.
Huobi? #scam #scamalert fake data #crypto #scam exchange pic.twitter.com/8g3tSHwYDU

— FIxxx (@Coinmarketscam) April 13, 2020
Verdict
Clearly, from outside, Huobi is one of the best cryptocurrency exchanges out there. I have been trading altcoins from past four years. I bought my first bitcoin way back in 2016 and four years is long time in world of cryptocurrencies. So many coins have come and gone and so have the cryptocurrency exchanges.
Thing is, Huobi has so much fake volume that I would not recommend it using it over something like Binance and Bittrex. For small volumes, Huobi is fine but why use it when there are so many real exchanges out there.