Twitter accounts of cryptocurrency exchanges hacked
Coinbase, Gemini, Binance, CZ, Kucoin, Ripple, Tron, Charlie Lee twitter accounts got hacked. What are the odds? It would be fascinating to figure out what was the common factor.
Did this happen due to SIM card swaps?
Most of SIM card swaps happen in US only. While most exchanges on the list are from USA, CZ, Binance don't have US numbers and would be impossible to find their number, even if they even have one.
So we believe it must be an API / key / 3rd party app. Someone said it could be a support agent with backoffice panel access. If that's the case this hemorrhage would have been stopped after it started. They would have access logs.
They didn't even leave Elon Musk, CEO of Tesla out.
Litecoin's founder, Charlie Lee was also hacked.
@ripple Twitter account has been hacked. Please disregard the most recent message (pinned) – and ALWAYS disregard any XRP giveaways purporting to be from Ripple or me.

— Brad Garlinghouse (@bgarlinghouse) July 15, 2020
The following twitter accounts have been compromised:
@cz_binance
@binance
@billgates
@bitfinex
@kucoincom
@SatoshiLite
@justinsuntron
@Tronfoundation
@Crypto_Bitlord
@Gemini
@Bitcoin
@CoinDesk
@coinbase
@apple @uber @kanyewest @joebiden
It seems they have lost entire control to their accounts.
This clearly looks like some large scale exploit of Twitter. Hackers are getting access of the Twitter accounts of popular crypto companies.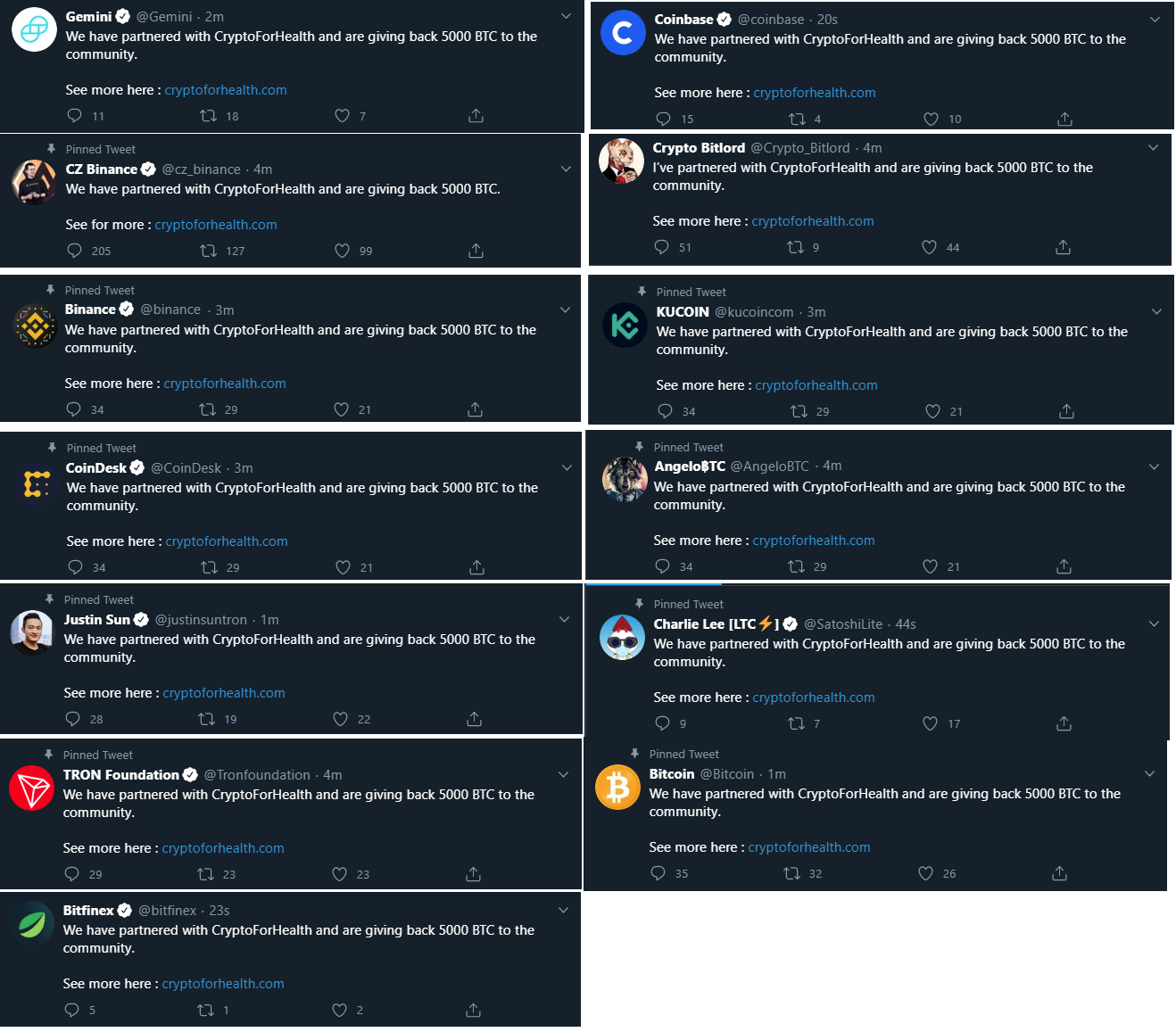 Stay safe and don't believe in any giveaway which asks you to send Crypto.