Doodled Dragons NFT project rugged hard
Doodled Dragons sold their NFTs and announced on their now-deleted twitter account that they will be making their first donation worth $30000 to WWF. After a span of two minutes, the person handling Doodled Dragons announced that their charity will be instead their own bank account.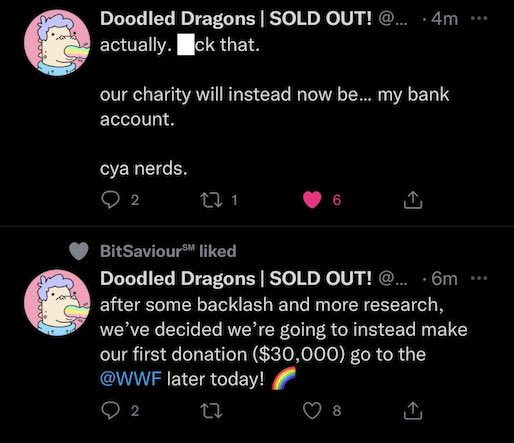 This has, as expected resulted in a lot of backlash on twitter with one saying there is a special place in hell for people who rug like this. Not all NFTs are created equal. This is the quote being used by NFTputing, an NFT news portal. Most are just money grabs with little to no liquidity. 
Those who minted Doodled Dragons NFT are feeling cheated. Their SOL tokens are now gone forever and they are left holding worthless non fungible tokens.
Also, for some reason, SolSea, one of biggest NFT marketplace for SOL users, still has Doodled Dragons listed as verified project. This makes it a verified rug project now.
This is why the smart contracts need to become more specific and secure or simply just don't invest in crap projects led by anonymous developers. Invest in real teams backed by VC investors. This will not be well received by solo artists though as they do not have a proper, known development team and VC investors.