RW00142 Your account is in a state of restricted withdrawal – Binance withdrawal issues
RW00142 Your account may be at risk. In order to keep your funds safe, withdrawals have been temporarily disabled. Please contact Customer Support for further assistance. This is the dreaded error code that you would never want to come across. This Binance withdrawal error is code is allegedly triggered to safeguard the funds.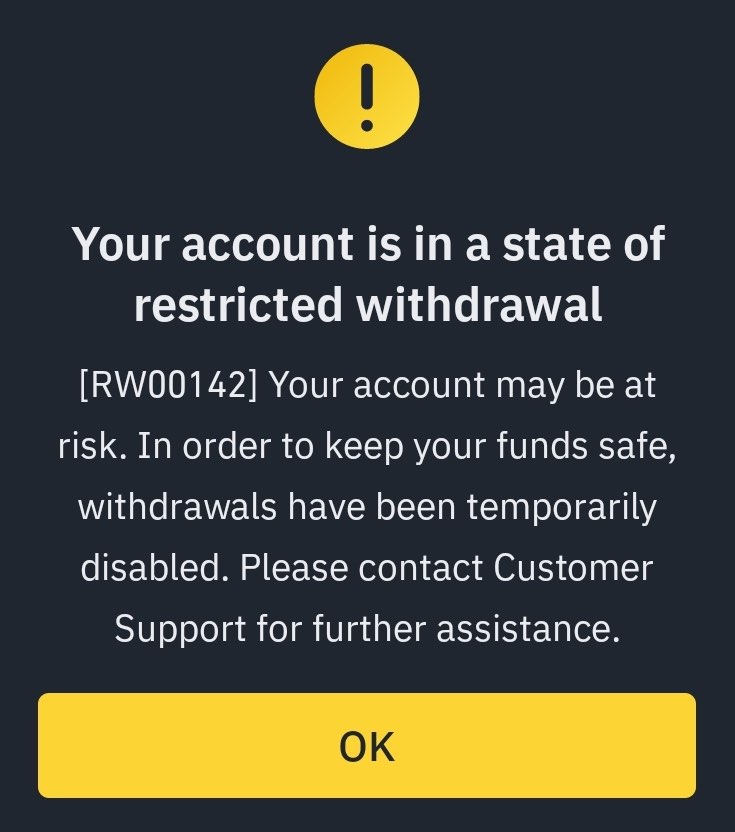 One of our team members has been through this and for some reason, her account triggered this RW00142 error code again and again.
What triggered this Binance withdrawal issue?
Well, Binance does not want to pinpoint what caused this issue. This is what their support told our staff.
My apologies we have no further information that we can share on what triggered this and I recognize that it happened before as well. The relevant team is well aware of the situation and I am humbly asking for more patience on your side as the team work on it. All we know for now is that the account withdrawal function will be enabled after 72 hours.
The Binance support staff added,
Again, I'm deeply sorry this has happened It's not the experience we wish to create for any of our VIP users but please be assured that this is for the safety of your account.
But what do we think? Our writer told us that her account got triggered twice when she was trying to withdraw USDT from Binance. She had no issues while withdrawing any other coin, token or even BUSD.
So, USDT appears to be the culprit.
How to resolve RW00142 issue?
This Binance withdrawal issue will not resolve on its own. You must visit customer support section and open a ticket. Then, choose options so that you are able to chat to a Binance support agent. They will open a request for you where they will state that your withdrawals will be automatically enabled after 72-hours.
In her case though, the withdrawals did not enable automatically and she had to ask the support agent to enable it manually. It took them around 10 minutes to re-enable them. Keep in mind you can only ask them to do so after 72-hour time period has passed.
How to do withdrawals safely on Binance? 
Right now, it appears Binance does not want its users to withdraw funds using USDT. So the workaround is to convert your funds to anything other than USDT. May be convert it to Ethereum and change them to USDT on uniswap, 1inch or whatever decentralized exchange you prefer. Alternatively, you can change to BNB and then change it to USDT BEP20 on pancakeswap, which is Binance's own decentralized exchange. 
The crux is not to withdraw USDT that apparently triggers this RW00142 withdrawal error.