Coin2FX Review- Make a Strong Start in the Trading World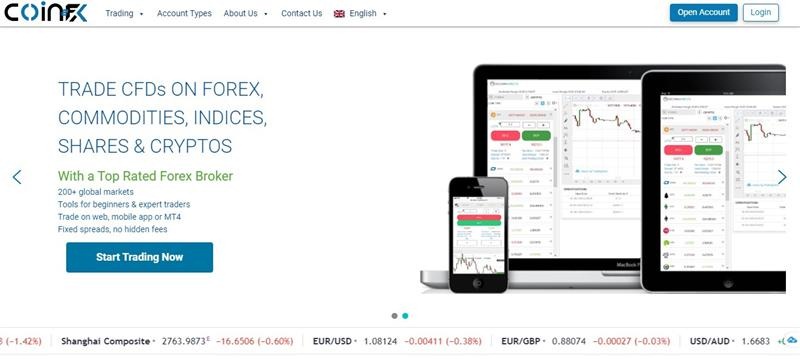 Thanks to technological advancement, online trading has become a global phenomenon and presented thousands of people all over the world with the opportunity of making substantial profits. There are plenty of online brokers in the market that are offering their services to help people participate in different financial markets and profit from them. The market has plenty of brokers, which means that if you want to be a trader, you will have to choose a broker. How do you choose a broker? You will come across different categories, with some only catering to professional traders and some trying to attract newbies to their platforms.
The key is to find a broker that deals with all types of traders because you can stay with them in the long term. Switching brokers can be a big hassle and this can be avoided when you go with a well-rounded and comprehensive broker. One of those brokers is none other than Coin2FX. It has managed to become one of the top brokers in the market and has a very solid reputation. The broker has been providing its services for almost a decade and it has incorporated a sophisticated and powerful set of features that can assist both new and experienced traders alike.
Nonetheless, it is best for you to weigh in the different elements of the broker before you choose to sign up with them. These are outlined below:
What is Coin2FX?
As mentioned above, Coin2FX is an online broker and it was founded by Smart Trade Investment Ltd, which is located in London, United Kingdom. The financial services company specializes in delivering the best online trading experience to their clients. They have managed to develop a strong reputation in the market because they have excellent and flexible investment options that can fulfill the needs of every trade, whether they are a novice or veterans. Coin2FX specializes in CFD trading i.e. Contracts for Difference. This means that you don't own the physical asset. Instead, you purchase a contract with that underlying asset and benefit from any movements in prices.
One good thing about CFD trading is that it gives you a lot more options in terms of the assets you can trade. Coin2FX ensures that its clients can access the top assets available in the market and it also provides them with the trading platform they need for executing their trades. In addition, Coin2FX has also added a horde of trading tools to help its clients. The broker is fully aware that these tools can play an important role during trading and can even make the difference between profits and losses. Furthermore, the broker doesn't go crazy on commissions, unlike some other online brokers, which ensures that you can keep your costs low and your profits high.
What security measures are implemented by Coin2FX?
Security is an issue that has become extremely important these days because there have been numerous incidents where brokerages were hacked or they turned out to be scams. Lots of traders are very hesitant in trusting brokers because they do not want their money to vanish into thin air or they don't want their identity to be stolen. In order to ensure it doesn't happen, your focus should be on finding a broker that's transparent in their dealings. There have been a number of incidents where brokers introduced shady policies and terms and conditions and traders were unknowingly trapped.
This can lead to disastrous consequences and you could end up losing your capital. Hence, a broker needs to be transparent as well as upfront about their policies.
Coin2FX is fully aware of these concerns that traders have and it has gone to great lengths to reassure its clients. When you choose this broker for your trading, you will be able to do so without any worries. To ensure full transparency, Coin2FX has implemented the Know your Customer (KYC) and AML (Anti-Money Laundering) policies. The first is designed to obtain proof of ID in the form of a passport or government-issued ID card and proof of address in the form of a utility bill or bank statement. In this way, the broker can ensure that only people with legitimate profiles can sign up on their platform.
As for the second, it is aimed at making sure that the Coin2FX trading platform is not used for laundering money. Traders are required to provide information about their source of income, along with some other information. They also have to submit their credit card details if they plan on using it on the trading platform. But, how do you take the broker at their word? Every broker is going to claim to be vigilant and transparent in order to lure clients, but this may not be the case.
So, how can you be certain? To do so, you have to look at the broker's regulatory status and their licensing. A good and high quality broker will always obtain a proper license and register with a regulatory organization because they are legitimate. Coin2FX has done the same, which means that if you choose this broker, you are opting for one that's regulated by one of the top organizations. This adds a layer of security and minimizes the risk of identity theft and scam. In case of any dispute, regulators are known to step in and resolve them.
Also, as per regulatory requirements, brokers maintain segregated accounts for their clients as does Coin2FX. This ensures that your funds don't get mixed up with the broker's and remain safe from any misappropriation. The broker also uses the highest standard of encryption for keeping all communications under wraps, along with your personal information.
What are the assets you can trade on Coin2FX?
One of the most important things that you need to check regarding a broker is the financial products it is providing you. There are some brokers that only specialize in a particular market while others are known to provide a mix of assets. What should you do? If you are interested in trading a particular asset, you need to verify that the broker you are considering offers that asset. Otherwise, you need to continue your search. Coin2FX can meet your requirements quite easily in this regard because, as stated earlier, the broker supports CFD trading.
Hence, it is able to provide you access to a huge number of markets thereby giving you the perfect opportunity to diversify your investment portfolio. When you sign up with Coin2FX, you can choose to invest your money in stocks, commodities, forex and indices.The broker has added some of the top options from every asset class to help you balance your investment. The best thing about Coin2FX is that the broker keeps up with market trends and so it has also added cryptocurrencies to its list of offerings.
Even though Bitcoin was introduced more than a decade ago, cryptocurrencies didn't gain traction until the last couple of years. Nonetheless, they have become a hot commodity these days and everyone wants to tap into their potential. With Coin2FX, you can easily do that and enjoy the perks of trading in this market.
How does Coin2FX trading platform measure up?
As mentioned before, Coin2FX is dedicated to provide its clients with a smooth and seamless trading experience. Much of this depends on the trading platform offered by a broker because that's what is needed for executing trades in the market. Not only does it give you access to markets, it also boasts the tools and features that are required during the trading process. Coin2FX understood the needs of its traders and so they have developed a comprehensive and loaded trading platform that comprises of the functionalities and features that can make a huge difference in trading experience.
Their proprietary trading platform can be accessed through the web browser, which means there is no need for any downloading or installation. It also provides you flexibility because this platform can be accessed on any device that supports a browser. Moreover, web-based platforms are able to run a lot more smoothly because they are not dependent on the performance of a device. Thus, users don't have to deal with lags or crashes. The trading platform comes with advanced charting tools and trading indicators and the dashboard is highly intuitive.
Even as a beginner, you will not face any trouble in navigating the platform. However, this is not the only option that Coin2FX has given to its clients. The broker is aware that traders need to be constantly moving in this fast-paced world. To help them keep up with their trading while on the move, mobile platforms for iOS and Android devices have also been added. These are also easy to use and have some impressive trading tools that deliver a seamless performance.
What trading conditions are offered by Coin2FX?
It is essential for you to take a look at a broker's trading conditions before you choose their services. This is due to the fact that these conditions can have a direct impact on your bottom line at the end of the day. No two brokers offer the same trading conditions and you need to assess them carefully in order to ensure they are as favorable as they appear to be. There have been situations where hidden charges took traders by surprise and they had to take a huge reduction in their profits. Luckily, Coin2FX doesn't believe in misleading their clients and is very transparent about its conditions.
First and foremost, the broker has added a lot of leverage to the mix, which appeals to newcomers and professional traders alike. Why? This is because leverage allows traders to make big trades, even if they don't have a lot of capital at their disposal. Hence, you can earn substantial profits even if you cannot invest a lot of money. But, you should also know that the leverage offered by Coin2FX depends on the account you open with the broker. Like other brokers, this one also gives you several account options to choose from and the leverage provided in each account is different.
In addition, you should also note that the leverage provided for every asset is also different because the volatility of the asset has to be taken into account. Other than leverage, you also have to consider the spreads offered by Coin2FX. This refers to the difference between the price of the asset when it is bought and sold. It is how brokers make money when they don't charge commission. Coin2FX offers some of the tightest spreads in the market, which allows traders to keep their costs very low. The fact that they don't charge commission is a bonus because these can greatly reduce a trader's profits.
What account options are provided by Coin2FX?
In order to avail a broker's services, you have to open an account with them. Every broker gives you several account options to choose from and Coin2FX is no different. Every account offers access to different features and options and you can choose one as per your requirements. You can deposit money in your account in two currencies, either Euro or GBP. There are four account options that you can explore, which are:
· Silver: 10% margin loan, customer support, market reviews and recommendations, access to online courses and a senior account consultant is provided in this account.
· Gold: Margin loan increases to 35% and traders can also access webinars with this account type.
· Platinum: Higher leverages, 50% margin loan, limited video library, risk free trades and an expert account consultant are provided in this account.
· Diamond: You can get a VIP consultant, VIP events, lowest exchange rates, a personal trading coach, 100% margin loan and exclusive trading signals in this account.
Conclusion
Coin2FX has gone to a great deal of trouble and effort to ensure that every single client has a profitable trading experience with them. They provide top notch customer support and also have excellent educational resources to assist their traders every step of the way.