Coinbase cryptocurrency exchange freezing funds of many users
Many users are reporting on twitter that Coinbase, world's number one cryptocurrency exchange in terms of volume and popularity is freezing accounts of many users.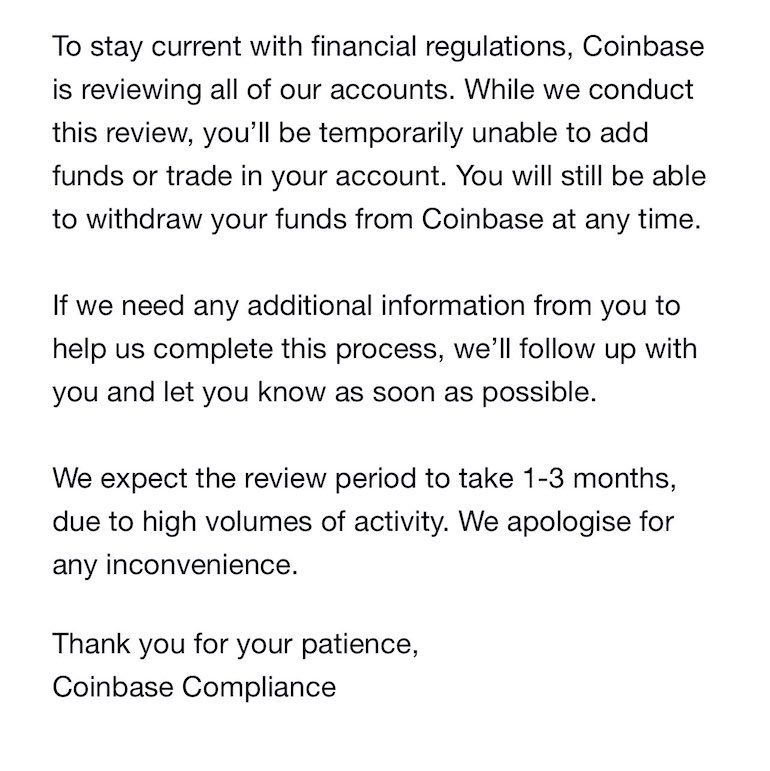 While users are still able to withdraw their funds, they will not be able to add more funds. 
In the meantime, users will still not be able to do any sort of trading on the exchange. Coinbase will also be asking users to several questions, if they find anything fishy or they need more personal information.
Weird thing is that this process may continue for 1-3 months since they appear to have frozen a lot of accounts and there is so much trading volume to cope with.
So, if you are a Coinbase user, feel free to hop onto binance.us which also requires KYC but is working just fine. Or if you do not want to do KYC, feel free to check out KuCoin exchange that lets you withdraw upto 5BTC without giving out any personal information. There is no limit of deposit of funds. Another advantage of using KuCoin / Binance is that you will find all of your Coinbase cryptocurrency assets.
This email is being sent from Coinbase Compliance department and is not a phishing email.