Wize Capital Review- Trade Multiple Assets from One Platform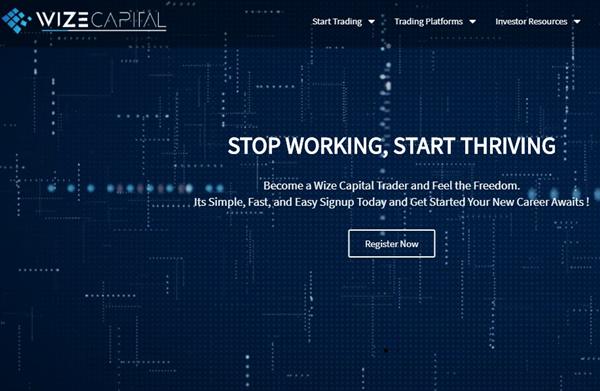 When you set out to find a broker, there are numerous options for you to explore. Online brokers are plentiful and are based in different regions. You can also distinguish them based on their asset offerings, trading platforms and other tools and features. While this means that you have plenty of options to choose from, it can also be overwhelming because choosing one from so many can be difficult. Of course, every broker will claim to be the best at what they do, but you cannot take them at their word. You need to assess a broker carefully before you make your final decision.
Doing your due diligence is important because when you choose a broker for trading, you have to share your sensitive information and your funds with them. If they are a scam, you could end up suffering from heavy losses, which is something every trader wants to avoid. Wize Capital is one of the brokers offering their services in the market, which was established by Global Solutions Ltd. As compared to other brokerages, it is relatively new, but that hasn't stopped the broker from attracting a global clientele. Why? This is because Wize Capital has added a number of appealing features and offerings that have helped it in standing out in the crowd. Take a look at what the broker has to offer:
– Wize Capital has multiple asset offerings
The first and most prominent reason that Wize Capital has attracted so much attention is the assets it has added to its platform. There are thousands of financial instruments that people can trade online and hundreds of people all over the world have earned millions by trading them. The problem is that lots of brokers claim to offer a huge range of instruments, but don't follow up on this claim.
This is not the case with Wize Capital because the broker has done exactly what it says; you can trade forex major, minor and exotic currency pairs, you can trade commodities like gold and oil, stocks of companies like Amazon and Apple can be traded or cryptocurrencies like Bitcoin, EOS, Bitcoin Cash, Ripple and Litecoin can also be traded. In fact, the brokerage is constantly adding new assets to enable its clients in expanding their product portfolio.
– Wize Capital offers great tools and educational resources
While there are traders who succeed in the market, there is a huge number of people who lose their capital in one transaction. They are unable to profit from their trades, but why does this happen? It is due to the fact that they don't have a lot of knowledge about how markets work or they don't know good trading strategies. In order to ensure that its clients don't suffer the same fate, Wize Capital has added some educational resources and trading tools on its platform. There is an Online Academy where you can find helpful videos and eBooks and Webinars are also available for learning the ins and outs of the market.
Furthermore, the broker has also added some good tools, such as the Economic Calendar and technical analysis indicators that can come in handy during the trading process. They provide traders with useful information that can be used for making timely decisions, thereby keeping losses under control and maximizing profits.
– Wize Capital has incorporated the top trading platform
The trading platform that you have to use for making your trades can have a big impact on your experience. If the platform is slow or doesn't have the necessary features, it could hamper your trading. Wize Capital has gone to great lengths to ensure traders don't have to face any problems due to which it has added the MetaTrader 4 suite of platforms. This is the leading trading platform in the market and provides the most intuitive interface and sophisticated tools that you will not find elsewhere. You can choose the desktop version of the MT4, which can be downloaded on your device and delivers a powerful experience. There is also the WebTrader option that you can use through the web browser, which gives trader flexibility in terms of devices. MT4 mobile apps are also available for Android and iOS and can be used for trading regardless of your location.
– Wize Capital has unique account options
One of the most important parts of this Wize Capital review are the account options. The account options offered by Wize Capital are also worth checking out because the broker has made an effort to make them comprehensive for different kinds of traders. Since it wishes to cater to the entire market rather than a specific type of trader, it has introduced three account options. The first option is called the Beginner account, which needs a deposit of $250. Webinars and research reports are available in this account.
Next up is the Advanced account for intermediate traders and needs a deposit of $5,000. Dedicated account managers, access to Expert Advisors, Online Academy and one-on-one sessions are available here. The third account option is called Experts and needs a deposit of $20,000. It offers access to the trading room, along with every other feature that Wize Capital has to offer.
– Wize Capital has reliable customer support
Understanding that customers will need help at some point, Wize Capital has set up a reliable customer care department. Their agents are friendly and knowledgeable and can be reached out through email, phone and the web contact form provided on the website. You don't have to wait very long for a response and they go to great lengths to ensure that you are satisfied with the help you receive.
Final Thoughts
With Wize Capital, you can have a well-rounded and profitable trading experience because the broker has given you the opportunity to trade thousands of assets. In addition, it lets you use the top online trading platform and has ensured that the registration process is quick and easy. Plus, the security architecture can give you peace of mind when signing up with Wize Capital and you can use their tools and resources to reap the benefits.