Bitcoin Gold DNS servers hacked, website and forum pointing to funny YouTube video
DNS servers of Bitcoin Gold were hacked yesterday and the official website, bitcoingold.org is redirecting to "Juice Wrld – Lucid Dreams" YouTube video. The official forum, forum.bitcoingold.org is also redirecting to the video but direct links to forum topics are not redirecting to video and are inaccessible.
Twitter account of Bitcoin Gold has confirmed that the attack has only affected their website and their planned network upgrade for dealing with ASIC-situation will go as planned. The BTG's blockchain is not affected.
Please be aware that we are currently dealing with a DNS problem which may affect availability of our website and related services.

The blockchain is not affected in any way and transactions continue normally.

— Bitcoin Gold [BTG] (@bitcoingold) June 21, 2018
This network upgrade is scheduled for block height (536200), which should occur approximately July 1st, 2018. No new coins will be created but in order to continue mining, you will have to upgrade your miner to their new equihash-BTG algorithm. The new algorithm uses a lot more memory which makes mining difficult/nearly-impossible on the ASIC's equihash miners.
Please be aware that our Network Upgrade is planned for block (536200), which should occur around July 1st, 2018.

Links and details here: https://t.co/Suz693vDQH

— Bitcoin Gold [BTG] (@bitcoingold) June 22, 2018
More than 24 hours have passed and the DNS hack is still there. The website is still being redirected to the funny YouTube video. The forum is still down.
We have approached PR team of Bitcoin Gold to know the status of it. We will update this article if we hear from them.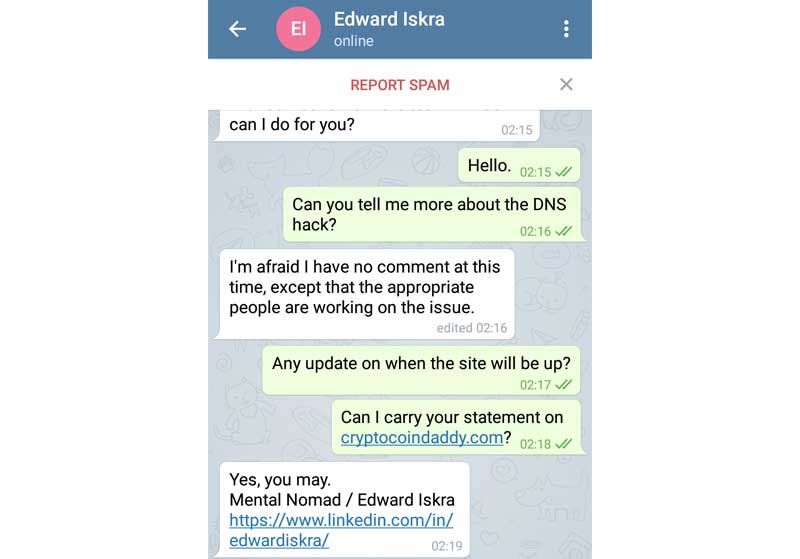 Update – Edward Iskra from Bitcoin Gold team informed us that they are working on the issue but there is no word on when the website and forum will be up again.
Update 2 – we have some more updates from Edward from BTG.

Our SYSOPS and Board have been heavily involved in trying to resolve this matter since it first became apparent yesterday. Our DNS servers were not affected; the BTG account with our Domain Name Registrar (NameCheap) was hijacked.
We have had repeated contacts with NameCheap in the past 24 hours, who promptly locked the account. Despite the copious evidence provided to their Risk Management department, they have been unwilling to immediately restore our DNS entries to their pre-hack status. They insist on a slow and lengthy confirmation process before reverting changes which have clearly broken their customer's infrastructure.
We are as frustrated with this as the rest of the Community, but for now, we are wholly dependent on NameCheap's to take action.