How to Buy Bitcoin with Credit Card on CEX.IO
Anyone interested in buying Bitcoin or any other cryptocurrency might have stumbled upon dozens of similar guides. In practice, buying bitcoins can be a confusing process. There are so many questions before you can even get started: Where can you buy bitcoins? Is it legal? Is it safe? Where can you get a good price? And many more. Sounds familiar, doesn't it?
Bitcoin's road to worldwide recognition and user acceptance has been bumpy and full of scandals, so these are questions you definitely should be asking. It is never a wise decision to invest in an asset before making a well-grounded research. To save your time researching and get the most popular questions answered.
Where Can You Buy Bitcoins?
Being a newbie to the crypto world, one may totally get lost at choosing a reliable Bitcoin exchange to start with. Now the number of cryptocurrency exchanges is huge, so it is not an easy task to find one that will perfectly suit the demanding requirements of users.
CEX.IO. Being one of the largest bitcoin exchanges, London-based CEX.IO caters to 99% of the countries in the world. It offers all sorts of features for professional traders and those that are just looking for a safe place to buy or sell bitcoins. One of its features is multiple payment options, including credit card. The goal is to get bitcoins into your wallet as quickly as possible, at the best price, while keeping your funds safe throughout the process.
Is It Legal?
Yes, in most countries and in many US states buying bitcoins with a credit card is legal. And CEX.IO is one of those exchanges that take legal compliance seriously. You can find more details here. New states and regions are added to the list all the time.
Bitcoin is unique in that it cannot be refunded once sent, and the identity of the recipient is completely anonymous. That is why there are some extra steps when using a credit card to buy Bitcoins.
Is It Safe?
Security is the highest consideration for CEX.IO. It is PCI DSS compliant, which is an indispensable prerequisite for all money businesses, processing credit card transactions and storing sensitive cardholder data.
What is more, CEX.IO is committed to preventing any form of financial crime and detecting any kind of illegal activity. Being officially recognized as a money services business by FinCEN, CEX.IO pursues the AML/KYC policy and implement anti-fraud procedures specified by the law.
Buy Bitcoin in 5 Easy Steps on CEX.IO
Apparently, the unregulated nature of bitcoin means there will be a couple more hoops to jump through than a regular credit card transaction. But, it should by no means keep you away from bitcoin – once you're set up, you'll be able to buy and sell bitcoins with peace of mind in just a few clicks.
Indeed! Here we are going through a safe and simple way to buy bitcoin – with a payment card.
Step 1 – Log in or Register
If you are already a user of CEX.IO, the first and the most obvious step is to log in to your account. If you don't have one yet, use the Register button to get one now, it's easy.
you're logged in – click the deposit button on the top right. As most exchanges require, you'll need to link a verified credit card to your account to purchase bitcoins easily. So what does it take to link and verify a credit card on CEX.IO?
Step 2 – Link the Payment Card
Here you need to add your card details.
Choose Payment card and click the Add a new card button.
Enter all the necessary card details and continue to the next screen.
Step 3 – Verify the Payment Card
Now you need to prove that you own the card. To do that, you'll need to upload photos of your ID and payment card, as well as a selfie with you and your payment card. Make sure the photos are clear with nothing in the way.
Once you've uploaded those, you'll need to complete verification by receiving a small charge of a few cents to your payment card. Proceed with the transaction and enter the amount you were charged on the next page.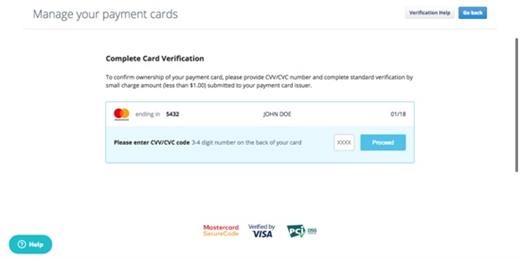 You should be able to find this on your credit card statement. By showing you know how much you were charged, you prove you actually own the credit card you are using.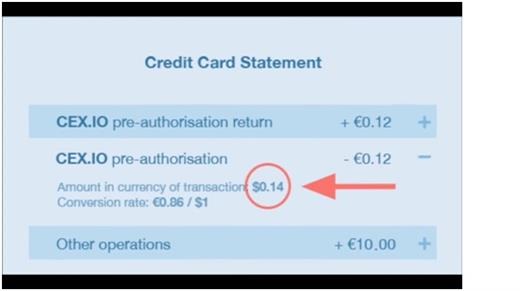 Enter the amount you were charged on the next page.
Now you just need to wait for the CEX.IO compliance department to approve your application. Once they have, you will be able to deposit funds quickly and easily with the registered card. To add another card, just follow the same steps again with the new card.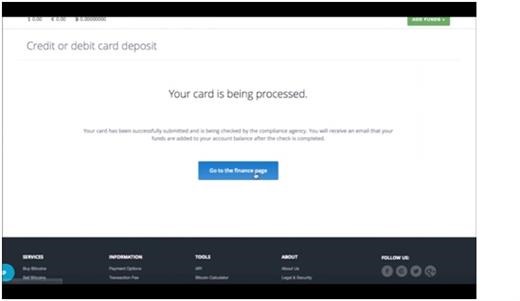 Step 4 – deposit funds
To buy bitcoins with your newly verified card, click Deposit at the top right again and select your verified card. The amount you put in the box is how much you want to be deposited into your account. The fees will be added on top of the amount you enter.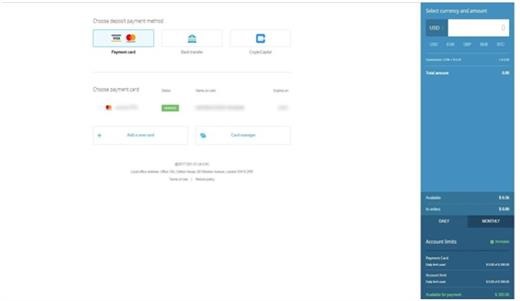 Step 5 – Buy Bitcoins
With funds in your account, all you need to do is click BUY/SELL or TRADE from the top menu. Use Buy/Sell to get bitcoins directly into your wallet with just a few clicks. Use Trade to access the order book for more in-depth trading options and possibly a better price. If you aren't sure which one to go with, it's probably best to just start with buy/sell.
How to Withdraw Funds from CEX.IO?
One great feature of the CEX.IO exchange is that it's just as easy to withdraw your funds after you're done trading bitcoin. Just use the Withdraw option and follow the steps to have your money refunded back to the payment card of your choice. You will need to verify your identity to withdraw funds from your account.
Available Currencies and Restrictions
You can buy bitcoins with US Dollars, Euros, British Pounds, and Roubles. If your card uses a different currency, it will be automatically converted. Some countries are restricted for payments – you can see the full list at the bottom of this page.
Commissions, Limits, and Verification levels
Deposit fees and limits change depending on payment type and verification level. For credit cards using US Dollars, the commission is 3.5% + $0.25. You can see the full fee schedule for all payment types and currencies on this page. The steps above will grant you 'Basic' verification level – allowing you to deposit a maximum of $300 per day and $1000 per month. To increase this limit, you will need to further verify your identity.
There will also be a small transaction fee each time you buy or sell bitcoin. The size of this feed depends on your trade volume and whether you are a taker or maker. This page has all the information.
Other Payment Options
You can also load your account with funds with a bank transfer or with other cryptocurrencies. Just use the different tabs in the Deposit menu to explore these options.
Get Started!
Gone are the days where buying bitcoins was difficult and unsafe. Now, if you have a credit card, you can get hold of them easily and quickly. If you don't have an account with CEX.IO yet, visit the CEX.IO website to get started.